Why you should choose EaseeAccess
EaseeAccess
is a handy safe solution that you can use when you need to connect and control more computers or laptops at the same time.
You don't need to have superpower to use your computer from office from any corner of the world, without taking it with you. All you need is EaseeAccess! See for yourself by installing the software.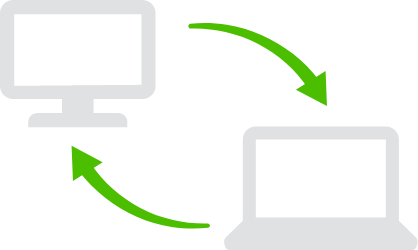 Read more
Have you ever forgot an important file on your work or personal computer and you need it when you are traveling in a business purpose?
Don't let this impediment ruin the change to conclude an advantageous contract. Start using EaseeAccess! It's Easee to have it all at your service. Focus only on your negotiation skills!
Use EaseeAccess
Are you a fan of filming and photography when you go on a vacation, but it happened before to run out of space on your laptop? Do not give up on your habit because the memories we make are the one that define us at some level. They are the roots that anchor us in the present and give us the opportunity to build the future.
Use EaseeAccess and transfer as many files as you need on your home computer and make room for your videos and photos that define your state of being. Now it's Easee to get as many anchors and you want. Build your future with EaseeAccess!
Forget about the USBs and CDs! Now it's easier to transfer your files from a computer to another.
Use EaseeAccess
You are always a teammate and you want to help others when you are not around them? Use EaseeAccess and remotely solve all the problems from your computer or laptop. It's Easee to get the appreciation of others. Be the superhero from your team!
Do you want to spend more time at home rather than in the office, without affecting your productivity? You can do this by using EaseeAccess. There's no need to take home your comuter or laptop from work.
A secure solution
By using the app you can securely connect more computers, because the software is designed with all modern security features in mind. Also, it is updated every time a new security challenge comes up.
A flexible solution
The app is Easee to Install, it can be used on more computers or laptops at the same time and help you to remotely access any device, as if they were in front of you.
An affordable solution
Choosing EaseeAccess you will pay only while using the software. You can choose a daily plan for an average fee, or you can choose a plan for a longer period of time. Longer the period it is, lower the price will be. In addition, you can give up on this solution anytime you want, as simple as its installation.
Be smart! Be practical! Use EaseeAccess!